Wedding planning has been extremely difficult for me. Many people automatically think that being in the wedding industry, it would make things easier knowing vendors and seeing many beautiful weddings for lots of great ideas (like finding a wedding photographer). I think that it is definitely a pro and a con to be in the wedding industry whilst planning your wedding in that yes, I do know some great vendors and have seen the crazy spectacular magic they've been able to create. But on the other hand, we've seen so many lovely weddings that it's been so hard to choose what we've wanted to do.
The freedom to create the wedding day the way you want it has been amazing for most people and can be a lot of fun. But for me, I find that that my creative mind tends to wander and I tend to not want to make any decisions. I honestly have never been any good at making decisions because my mind overtakes me, I start to panic and all I want to do is RUN. For that reason my wedding planning has continually been put on the backburner and all I have wanted to do is stall it or worse, call it off.
Finding a wedding photographer (and the right one!) for our wedding has been the single most important item for us since both my fiance and I are wedding photographers. From the moment we got engaged, many people were quick to ask "now who is going to shoot YOUR wedding?". In the back of mind and deep in my heart, I knew who it was but I had no idea if we could make it happen.
Before I became a professional wedding photographer, my fiance who was my boyfriend at the time suggested I take a look into wedding photography as a profession. I had gone to a friend's wedding as a guest and she ended up loving some of the photos we photographed and framed it in her house. It was such an amazing feeling to be able to give someone something so special, that they would be able to treasure for a long time and become part of their home and their family history. I've always believed that photos, not just wedding photos are not just photos, they are memories and that these memories are invaluable. Wedding photos become part of your family – they are a family heritage.
As I started to do a little bit of searching on Google, I came across some incredible wedding portraits in Australia and in Bali and Australia shot by Marcus Bell. I fell in love with his work immediately. It absolutely took my breath away and I couldn't stop going back to them. The photos encapsulated so much beauty and emotion. It was wedding photography as pure fine art. I knew at that very moment that I wanted to not only know how to create it myself but have something as incredible for my own wedding.
At this point in time, I didn't know much about photography. All I knew was that I loved it as a hobby. Then, it was no more than capturing travel memories, photos of what I was eating that day or the occasional photos with friends at a special event. But Marcusshowed me just how truly amazing wedding photography could be. Marcus is often chosen by brides for his emotive, documentary style but is also most known for his dramatic landscape wedding imagery, also known as "Weddingscapes" by some. It was only a few weeks later (great timing!), that Marcus Bell was teaching an online workshop on CreativeLive which I participated in and it changed my world forever. From then on I knew that wedding photography was something that I really wanted to pursue.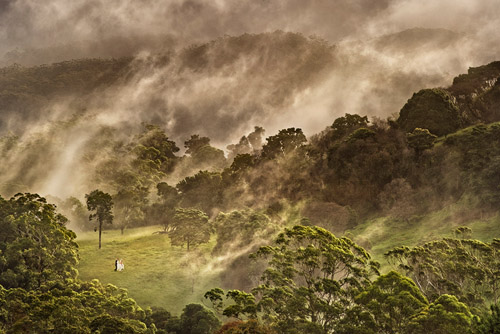 Because Marcus had enlightened me to a whole new world, inspired me to follow my passions, and just been a downright genuine and kind-hearted photographer; I've wanted no one else to photograph our wedding. No matter how many other photographers I've inquired with and scoped out their portfolio, I always come back to Marcus. However, he's also one of the most sought out photographers in the world so trying to fit him into our wedding plans was challenging. Despite that he was way beyond our budget, we were willing to move things around to fit him in. His crazy travel schedule also proved to be difficult. He was corresponding with us all this while despite being in Estonia and then flying out to Brazil. Marcus will then be travelling to Melbourne to photograph a wedding and then flying out to Bali to photograph our wedding the very next day! I am so thankful he was able to work with us to make it all work!
I am beyond delighted to that we've been able to book him as our wedding photographer. Other than marrying my best friend and soul mate, having Marcus to photograph us has been a dream come true. On top of that, we'll be getting married on an incredible cliffside private villa in Bali. I've always been an ocean beach girl, having been brought up in Australia so I can't imagine our wedding being anything less than spectacular. I am so ecstatic that we could make all of this work. I've never been one of those girls who dreamed of their wedding day but it means so means so much to me to have him there to photograph our love. Wedding dreams do come true if you really want it to. <3